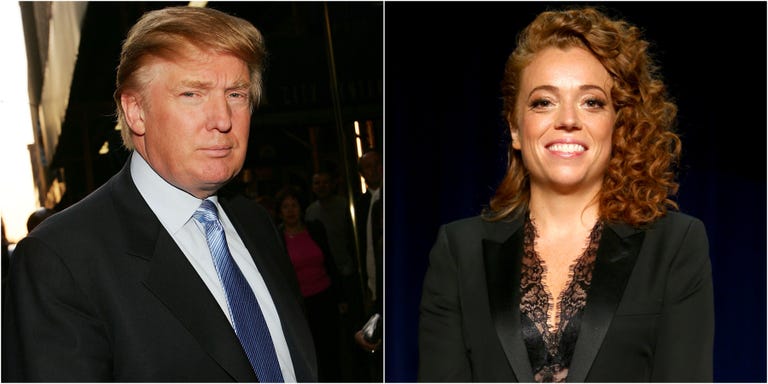 This past Saturday was the annual White House Correspondent's Dinner, and for the second year in a row, Donald Trump decided not to go (instead he went to Michigan to campaign….so weird). This event is usually stupid; just a chance for some hack comedians to do their hack material to an audience of stuffed shirts.
Saturday was no exception. But with one twist; some people got offended.
Apparently some comedian named Melissa Wolf said some mean things about the president and his posse. And not in that jovial, roast-like tone. But in a serious and scathing way.
People from the Left and Right are trying to distance themselves from her words. The Right: 'you should not mock people's appearance, that is too low'. The Left: 'when they go low, we go high. This was not that'.
So out of curiosity, I looked up what she actually said in her act. I mean it must be absolutely ruthless to garner this about of attention.
And there is no question I was offended. But not by her words. But by her material.
She is not funny. End of story. This comes as little surprise; many modern and relatively famous female comics are simply not funny and rely on shock value for their comedy ('Ohhhhh, a girl said stuff about tampons and used the word 'cunt'? I am so….shocked….'). Melissa Wolf is just a poor woman's Kathy Griffin….well…a Kathy Griffin I guess.
But that is not the worst of all of this. I mean these comedians are unfunny a lot of the time, so this is no big deal. But the fact that people are so 'offended' by a comedian's mild insults and NOT by anything what the President says is insane.
To sum up Wolf's highly 'offensive' act, she called the White House staff liars (with not much of a lilt to it) and made a slight jab at Sarah Huckabee Sanders's makeup.
That's it.
Compare that to what Trump says on a weekly basis. I won't recount everything this monster says, but count how often he uses the word 'liar' and insult people's looks. I mean it is not even close to comparable.
AND HE IS FUCKIN' PRESIDENT!!!!!!!
Anyway, the uneven and very unfair nature we hold certain people is becoming more and more damaging. How can a comedian be regarded as so offensive yet when the President says even worse things, it is embraced by half of America? It is a real problem in our society. But don't worry; expect it to get worse as time goes on.