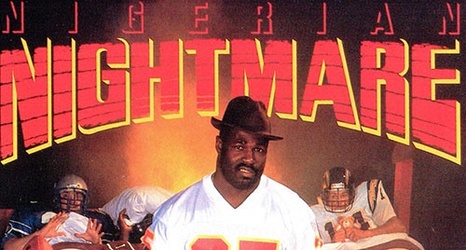 BBC reported today that a top internet scam artist was caught today by Interpol. The man (it's always a man, huh) only known as 'Mike' was running internet scams all over the world, netting a profit of around $60 million.
And guess where he was caught?
Nigeria.
The first thing I thought when I read this was 'Holy shit! Does this mean my money reached the besieged Nigeria prince?'.
Other questions were soon arising:
What is going to happen to all of those beautiful Russian women? All they need is a nice man to help usher them out of their cold and miserable life. Is Svetlana never coming to Seattle to meet me?

Am I never going to receive my free vacation to Australia? I mean I gave 'Super Fun Like Travel' Company my credit card number. I hope they don't forget about me.

When in the world is that penis cream coming? All of men can use an extra 3 inches.
Is it possible that all of my internet dealings over the years have been a sham? I mean I am no fool. I know when a deal is too good to be true. My nickname in college was 'the Big Stupid Fuckin' Idiot' because I so wasn't that. I assumed it was one of those ironic nicknames like Little John or Touchdown Tommy Vardell.
Anyway, you have to wake up really early in the morning to get one past me. I mean there is no way all of those emails I responded to (most sent with 'Urgent' as the title, people don't throw that term around unless the situation is urgent) were scams. Right?
So I read on in great fear…….
Phew! It turns out this 'Michael' guy just scammed small businesses with phony messages involving bank payments and tricking them to handing out their account numbers. How stupid are those suckers? I mean it is so obviously a ruse; banks. Hah!! Stupid morons.
So it looks like that Nigerian prince will still receive my generous donation. I really hope so. Everyone needs some help at times, even nobility. I just wonder if Mr. Abacha can someday retrieve the funds that are rightfully his…..
From:Mohammed Abacha Lagos-Nigeria Tel: 234-80-34069502
Dear Sir/Madam
This letter is not intended to to cause any embarrassment but just to contact your esteem self-following the knowledge of your high repute and trustworthiness.
I am Mohammed Abacha,the son of the late Nigerian Head of State who died on the 8th of June 1998.If you are conversant with world news,you would understand better,while I got your contacts through my personal research.Please,I need your assistance to make this happen and please; do not undermine it because it will also be a source of upliftment to you also.You have absolutely nothing to loose in assisting us instead, you have so much to gain.
The then head of state General Sani Abacha,transferred the money through a Lebanese businessman,Chagoury and a Jewish business man,Mark Rissar to bank accounts overseas,Instead,he used PERSONAL IDENTIFICATION NUMBERS (PIN) and declared the contents as Bearer Bonds and Treasury Bills. Also the firm issued him with a certificate of deposit of the consignments notes, which I have these information in my custody now.
You must have heard over the media reports and the Internet on the recovery of various huge sums of money deposited by my late father in different Banks and security firms abroad. Some of these banks and security firms willingly gave-/divulge their banking secrets and disclosed to the present civilian administration of Chief Olusegun Obasanjo,about my family's cash lodgement and monetary transactions with them.
Please my dear,I repose great confidence in you and I hope you will not betray my confidence in you.I have secretly deposited the sum of $30,000,000.00 with a security firm abroad whose name is withheld for now until we open communications.The money is contained in a metal box consignment with Security Deposit Number 009GM.
I shall be grateful if you could receive this fund into your Bank account for safekeeping. This arrangement is known to you and my junior brother (Abbas) only. So I will deal directly with you.I am proposing a 20% share of the fund to you for your kind assistance.I shall provide for you all the documents of the fund deposit with the security firm, and raise a power of attorney to enable you claim and receive this fund into your bank account.I have done a thorough homework and fine-tuned the best way to create you as the beneficiary to the funds and effect the transfer accordingly.Is rest assured that the modalities I have resolved to finalize the entire project guarantees our safety and the successful transfer of the funds.So, you will be absolutely right when you say that this project is risk free and viable.If you are capable and willing to assist, contact me at once via email with following details:
YOUR NAME
POSTAL ADDRESS
PHONE AND FAX NUMBERS
Also this transaction demands absolute confidentiality.On no condition must you disclose it to anybody irrespective of your relation with the person.Remember,Loose lips sinks ship.I am looking forward to your urgent and positive response via my email address above.
Best Regards,
Mohammed Abacha