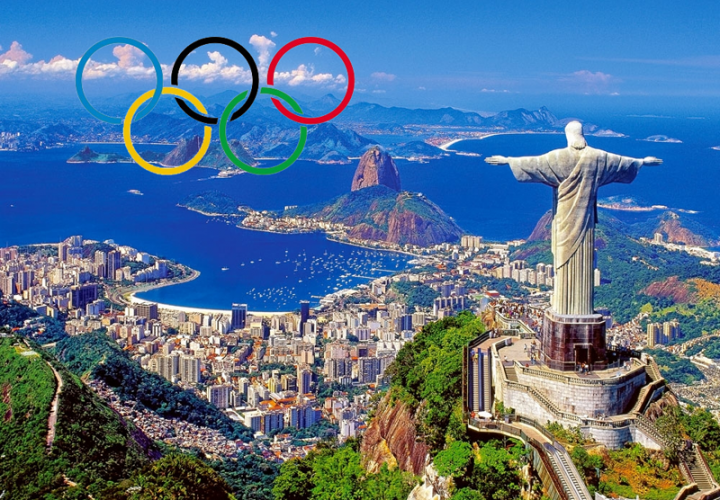 Well finally after 2 exhausting weeks of tape delayed madness, puff pieces galore, and sports we don't even know the rules to, the 31th Olympiad has come to an end. So let's look at the pros and cons of this iteration of the world's biggest event:
Pros
Usain Bolt. Whenever I see this man run, it is a treat. To come from behind in the 100m is still amazing. His presence and charisma is unmatched on the track. Kudos to the fastest man who ever lived.

Ryan Lochte and friends, which once again proved my point that US swimmers are the biggest douchers in the entire sports world.

The scenery of Rio. Yes we were only there for 2 weeks, and I feel I still don't know you, but the aesthetics are amazing. And not just the coastal feel to it, but the architecture of the stadiums and the logo designs were very cool.

Men's 400m. Wayde van Niekerk ran what maybe is the greatest race ever. 43.03 may not be beaten in years. remember that name because he is something.

Katie Ledecky. I am not a fan of swimming, but she is clearly the best thing going in the sport. She will be, if not already, the greatest woman ever in the pool. It's good to be 6 ft, huh.
Cons
State of women's sports. There is a reason why the US won all these gold medals; they invest more in their women's sports than any other country BY FAR!!! Read this article for more info, it's actually good. In other words, other parts of the world do not care about women's sports nearly as much as we do here. So for all you women out there crying foul about women getting the shaft in sports, look at other countries first.

Gymnastics. I remember a time when there were great rivalries between America, China, Romania, and Russia. Now the US is so much better, the entire thing is a joke. Why? Well, probably a lot due to the previous bullet point; the world doesn't care about female sports like we do. It may be cool to see Simone Biles dominate, but everything was decided before the competition. Lame.

Michael Phelps. I feel like I am watching reruns from 2008 and 2012. Same old same; splashing around and somehow winning a gold. Eh….yay?

USA basketball. This is getting pointless. Both men and women play at such a different level, it is not even a game.

Still no football in the Olympics.
Grade: C+
It was a good Olympics, but not a great one. We only saw one great single accomplishment (Men's 400m) and some legacy victories, but nothing else really stood out. Rio was beautiful, but it is hard to get around the fact there is so much poverty that it seems all of this was frivolous.
Luckily, I and the world will forget about that in a week.