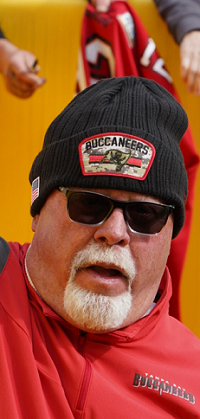 So that big fat red face blowhard is Bruce Arians; coach of the Tampa Bay Buccaneers. He is the guy who fell ass-backwards into a Super Bowl title by luckily landing Tom Brady and a roster built on good draft picks over a time that he was not there.
He is also the guy that recruited Antonio Brown, gave him a short leash of '1 strike', after hearing about all the chicanery he did with his fake vaccine card gave him another 'strike', and then Brown goes crazy on the sideline because that is what Brown can do for you from time to time. Tough guy Bruce said no more, Antonio Brown is not a Buc anymore.
But he still is as of today. Hmmmm.
If you don't know the tale of Antonio Brown, I suggest you go look up some of his story. But for a brief recap; Brown has assaulted multiple women, stiffed caterers and personal chefs out of tens of thousands of dollars, quit of teams and teammates over three different stops, and is pretty much a piece of garbage. Oh, I know I know, we all have to be sympathetic to mental illness, but I would suggest you talk to the people this multi-millionaire victimized first before offering Antonio the bulk of your sympathy.
But I digress.
This is not about Antonio Brown, not even about tough guy Bruce. This is about how all coaches are enablers, especially when you can help the team win.
Now I love to rip on tough guy Bruce because I hate him to hell, and this scenario he is currently in is low hanging fruit. However this is not a unique personality trait for Bruce. This is what pretty much all coaches do; act as if they hard minded, fair, and moral folks when in reality all they want to do is win and increase their legacy.
Some coaches this is easy to spot; Joe Paterno and his allowance of employing a sexual predator for decades, Tom Osbourne allowing Lawrence Phillips to play in the Orange Bowl title game after emulating Jim Brown, Paul Brown allowing Jim Brown being Jim Brown, Urban Meyer with every action he has ever taken, the list goes on.
But this is even true with the most sacred of sacred cows in coaching. For example, John Wooden was famous for being a soft spoken but rigid coach who taught young boys to be men. He would even pull over all the freshman and teach them the proper way of tying their shoes. But yet, Bill Walton, the acid dropping, tie-dye, long hair, tattooed Bill Walton violated pretty much every rule Wooden laid down, from dress codes to showing up late to just doing whatever he wanted. Guess what? Walton never missed a game.
Coach K at Duke recruited a kid from Alaska named Trajan Langdon. The very year Trajan signed to play for Duke, his father received a professorship at Duke. Quite a big promotion from Alaska Anchorage University, huh. Oh yeah, his grandson and top recruit were pulled over for drunk drinking…..nothing happened.
I can go on; Phil Jackson allowing Dennis Rodman to go to Vegas whenever he felt down, Andy Reid and Tyreke Hill, any team Jameis Winston ever played for. I mean if you look hard enough, the most upright of the upright in the coaching world has had to eat their morality at some point.
I don't mean that this makes them bad people; we all have hypocritical bones in our bodies. And I still like a ton of coaches despite them maybe being a bit disappointing at times. But what I hate is when these coaches (mainly college coaches) flex their morality muscle for all to see. As if they are doing God's work and this higher calling of coaching young boys into men makes them invaluable to our society. Just remember that even though there is variability in the ethics of each coach (some are worse than others of course), they are more alike than they are different.
Because if not, they would be fired coaches.