10. Sandy Koufax
Yeah, I'm starting this list with a bomb! Sandy Koufax; dominant pitcher, strikeout king, no-hit ace……for 6 years. Yes, this mythical level of dominance lasted for 6 years. His first 3 years, he barely pitched due to control issues. The next 3 years he was still busy finding himself. The last 6 years were absolutely dominant. Then he stopped due to blowing out his arm. After 12 season, where about half were memorable. HOF career? Maybe. But the level of fame he achieved is not merited by this incomplete career. Remember Johan Santana? He was about as dominant for 3 years. Then he disappeared due to arm issues as well. Johan will not get a sniff of the HOF yet Sandy will live in sports immortality. Wonder if pitching in NY/LA helped……….
9. Gale Sayers
The absolute reverse of Sandy Koufax, Gale dominated the NFL for his first 6 years, then he blew out his knee and stopped. Gale was that great, but for only a short period of time. There are many other NFL backs that were flashes in the pan; Shaun Alexander, Terrell Davis, Chris Johnson, Jamal Lewis. But only Terrell Davis will be in the HOF. Gale Sayers will be remembered forever. I know he was hurt, but I care about what you did, what you could have done. We romanticize the unknown way too often and undervalue the known.
8. Muhammad Ali
Great boxer, not a profound statement. But the greatest? Ehh, not so sure. There is an argument for Ali being the greatest, but it is not definite. And it should NOT be his nickname for Allah's sake! Ali lost a lot of fights in bad fashion late in his career. Ali had some great fights, but far from dominant, in his prime. This is the mark of a great fighter. But the greatest? Hands down? No no no. Hands up!
7. Yao Ming
Yao Ming was more of an anomaly than a great player. If being a Chinese basketball player good enough for the NBA was not interesting enough, the fact he was 7'8" was. Yes, he was a good player. He could shoot a bit, block a few shots, and move better than most 7'8" guys (well better than ALL of them, all 10 of them). His impact on international basketball in the Far East was maximal. But his actual impact on the NBA was minimal. He played only 7 seasons, the first 2 are the only ones without injury. His feet always hindered his career, but even at his best he was a 20/10 guy. Remember that title run he led Houston on? Yeah, I don't either. And in a league where greatness is measured by titles, Yao was never close at all.
6. Eric Lindros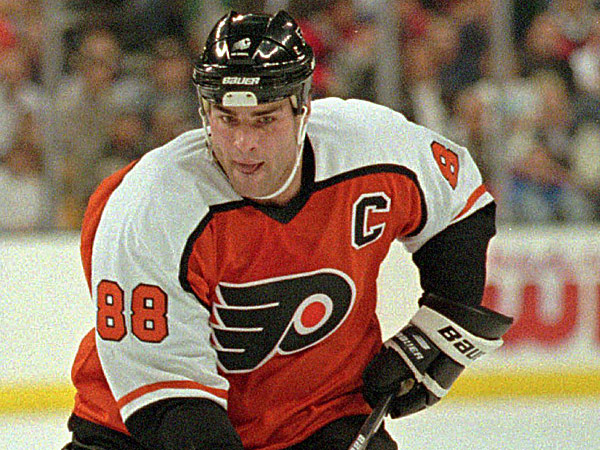 Back in 1988, hockey finally arrived to the States when LA bought Gretzky from Canada, Mario Lemiuex was becoming a legend, expansion was drawing near, and the next great hockey player was going to be Eric Lindros. Standing 6'4" and weighing 240, Lindros had the skill of Gretzky and the body of a polar bear. This guy was a can't miss great. Starting his NHL career in 1992, Lindros was….well…good. As time went on, he was never the all-timer that everyone thought he would be. Later in his career, concussion issues haunted him and had to retire somewhat early. But in his prime, he was a nice piece to your team. But really never was the HOF superstar people thought. But yet……HE IS IN THE HOF!! Say what?!?! I thought the on;y way he would go into the Hall was if he bought a ticket. But yet, there he is. I guess sometimes perception is greater than reality.
5. Dale Earnhardt Jr.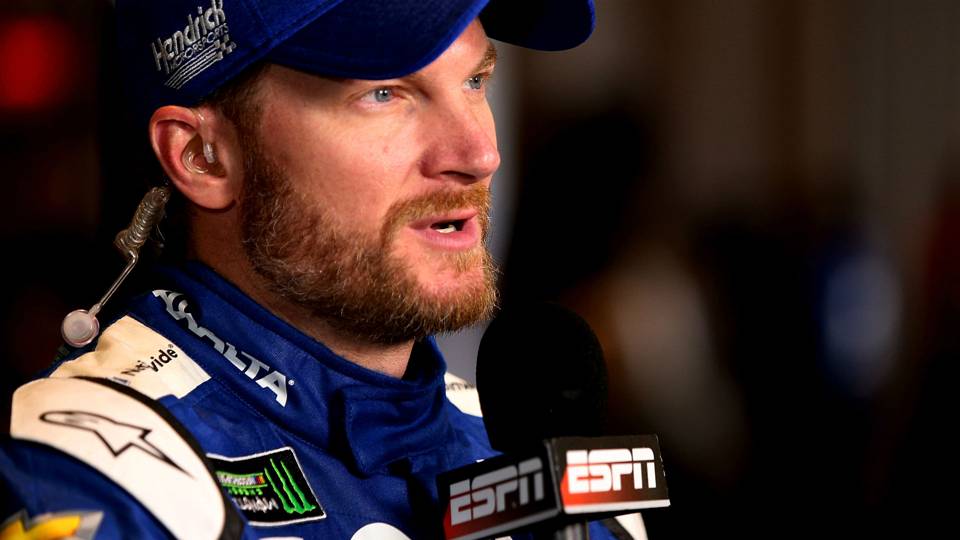 Now this guy, yeah this guy, is just not a very good driver. I am sure if I ever encountered him at a four-way stop, I may get into a wreck. I bet he can't even parallel park. Dale Earnhardt Jr, or 'Little E' as no likes to call him anymore, will always be overshadowed by his dad. Not his fault. But for NASCAR to make him the poster boy for the entire circuit and for him to become the most popular driver, while there where two other all-timers like Jeff Gordon (early on) and Jimmy Johnson (currently) that are far superior to 'Little E' at any time in his career that got about 1/2 the press….well that is just plumb wrong. Earnhardt Jr is limping away from NASCAR after this season, yet he will always be remembered and beloved, for no good reason.
4.Darryl Strawberry
I hate Darryl Strawberry. He was my least favorite athlete as a kid. His smug demeanor, his hyped up bio, and his constant drug use turned me off to this over-hyped loser. Am I biased against Darryl? Maybe. But check this out; never hit more than 40 HRs, only hit over .280 once, terrible fielder, never had a WAR over 7.0 in a season, yet was elected to 8 straight all-star games. 8!!! In a row!! Why? Because he played in NY? Because he has an interesting last name? Because the media are idiots? Probably all of those things. But after his sub par career that netted only 335 HRs and a batting average of .259, things would cool down. But no!!! He was on the HOF ballot. WHAT?!?! That coke head? Who was a slightly above average right fielder is on the HOF ballot? Luckily he is not in nor will ever get in, or else he would be even higher on this list.
3. Pete Maravich
Everybody knows Pistol Pete. His fancy passing, his skillful dribbling, his creative play-making, Pistol Pete has a highlight reel that was ahead of it's time. The problem is that a highlight reel make not a career. Have you seen an entire game with Pistol Pete? Well, it is not as great as you would may think. He turned the ball over a ton, had a low assist count for a guy with the ball all the time, and shot a very average percentage from the field. How many titles did he lead his team to? Zero. How many playoff series victories? Zero. Well, one. When he was a Celtic and barely played. So why is he so famous? Other than the 5 fancy passes he made in his career, he was known as a natural scorer. Well, who wouldn't be a natural scorer if you shot all the time? He averaged 40+ per game at his college of LSU. Want to know why? HIS DAD WAS THE COACH!! Yes, his dad was the coach. And all of those skills of shooting a lot and not winning that he learned in college he took to the NBA.
2. Joe Namath
Broadway Joe; the original guy who did one thing and became famous for it. Yes, he guaranteed a win over the highly favored Baltimore Colts in 1968. Yes his team won that game and claimed MVP (despite throwing for a paltry 206 yds and 0 TDs which their RB Matt Snell ran from 121 yds and a TD). But that's about it. Done. He led his team to only one more playoff ran the next season, lost promptly, and resumed being an average QB the rest of his career. Wait…average? I mean below average. Other than boasting QB ratings that were at or below the norm throughout his career, he threw 220 ints. That is 47 MORE than TDs he threw. And yet not on;y is this guy in the HOF, but his name is as famous as any other great QBs name. What a bunch of shit!! I wonder if playing in NY had anything to do with it…………
1. Derek Jeter
The entire motivation of this list is based on the fact Derek Jeter is getting his number retired by the Yankees this Sunday. And how do I know this? Well, when I turned on ESPN, I expected the lead story would be about the way the Spurs manhandled the Rockets to close out that series. Or maybe about how Harden was a no-show. Or maybe a preview of the next game between the Celtics and the Wizards. But nooooooo. It was, get this, about Derek Jeter. Derek Fuckin' Jeter. And all the commentary was about how classy he is, that everyone respects him, and what a great clutch player he was. All of it. Complete idolization. And for what? A man that was never the best player on his own team? A man who never won MVP, yet played for the Yankees? A man who dated multiple famous woman all the time and is praised for not causing a scandal? A man who has borderline HOF numbers (and yes, that includes the playoffs where his lifetime BA is greater than his playoff BA, guess all the times he didn't hit was not a clutch time) yet is compared to the greatest Yankee players of all time? A man, so dripping with class, refused to move from SS when they brought in the exhausting yet infinitely better SS in Alex Rodriguez, forcing A-Rod to play third, and be hated for it yet still posting better overall numbers than Derek? Derek Jeter will go in the HOF almost unanimously, and probably deserves to be there, but he more of a Luis Aparicio or Lou Boudreau level player. He is not a titan of the baseball world or an all-time great in any sense of the term, despite what you will hear on Sunday. Hmmmm, I wonder if playing in NY had anything to do with it…………….